Full-Circle Service
Full-Circle Service is about getting back to basics. Here's how it works: You tell us what you need, and we take care of it. Our job is to help you cost-effectively achieve or exceed your goals as an employer. And if you're not sure where to start, we'll help with that too. This consultative approach enables us to identify and address every possible recruitment and retention issue that might arise for you and your team.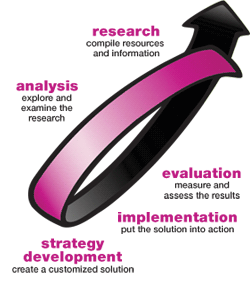 Wherever you are in the process, we're there with you, as much or as little as you need us.

Full-Circle Service is a seamless model that incorporates research, analysis, strategy development, implementation and evaluation. Each step leads to the next, which means Spin is constantly assessing and adjusting our strategies and solutions to keep pace with your evolution as an employer.